Happy New Year!! We have company in town and are having quite the party at our house. I have been working on sorting through all of my Christmas photos a little here and there. We had such a fun Christmas with so many fun pictures! I decided to throw them all into one post again. So be prepared for a very looooooong post full of Christmas photos.
I'll start with our traditions. We have so many Christmas traditions. Christmas Eve is the day we wrap them all up. These mean everything to my kids. We make sugar cookies for Santa on Christmas Eve. I don't think Ady was a part of this last year because I don't have one single picture of her. We probably planned it around her nap time. This year she was the star. One of her favorite things to do is play playdo, so she knew exactly what to do (or so she thought).
She loved all of the flour and of course the cookie dough.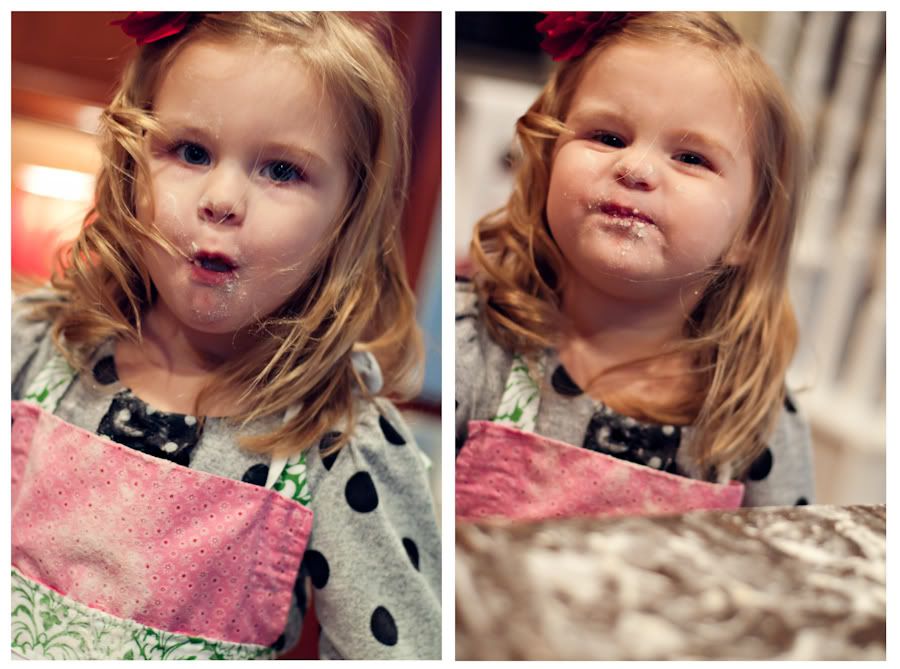 She stayed put even after the other kids were long gone.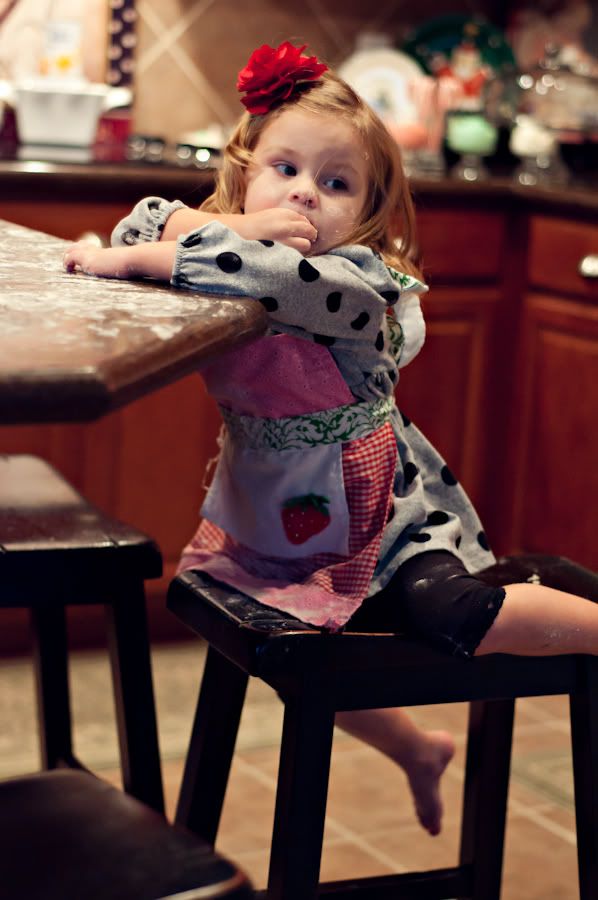 We open our Christmas jammies when it's time to get ready for bed.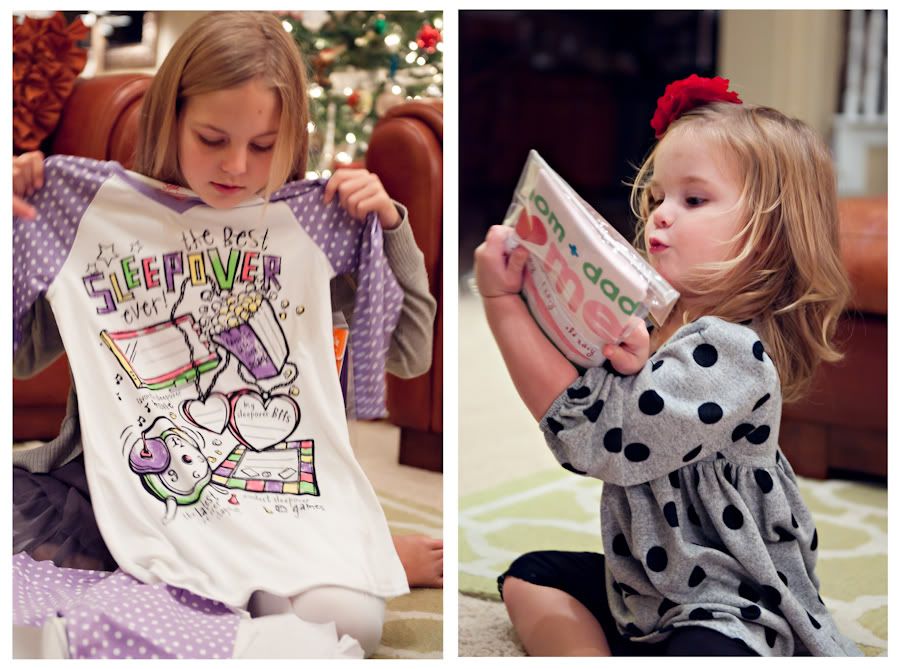 Each of the kids have their own manger scene. A couple of days before Christmas we bring out all of the pieces and read a part of the story each night.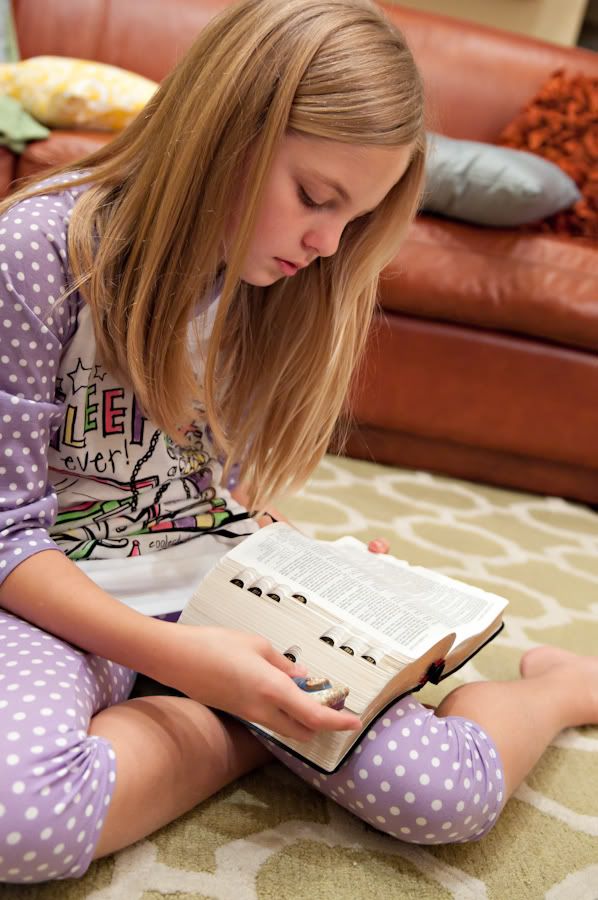 When we have finished reading each night, they take a piece of the manger to their room and display it. On Christmas Eve we finish the story with baby Jesus.
Then it's time to put the cookies and milk out for Santa. We can't ever forget about the carrots for Santa's reindeer.
It was fun this year to see and listen to Ady. She caught on to the magic of Christmas. She would go around the house singing "Santa Clause is coming to town." So cute!
We have a rule in our house. The kids are not allowed to come downstairs until we say it is ok. No peeking allowed! I'm surprised they sat still for me to snap this photo. They were so excited!
It is always fun to see them tear into their packages.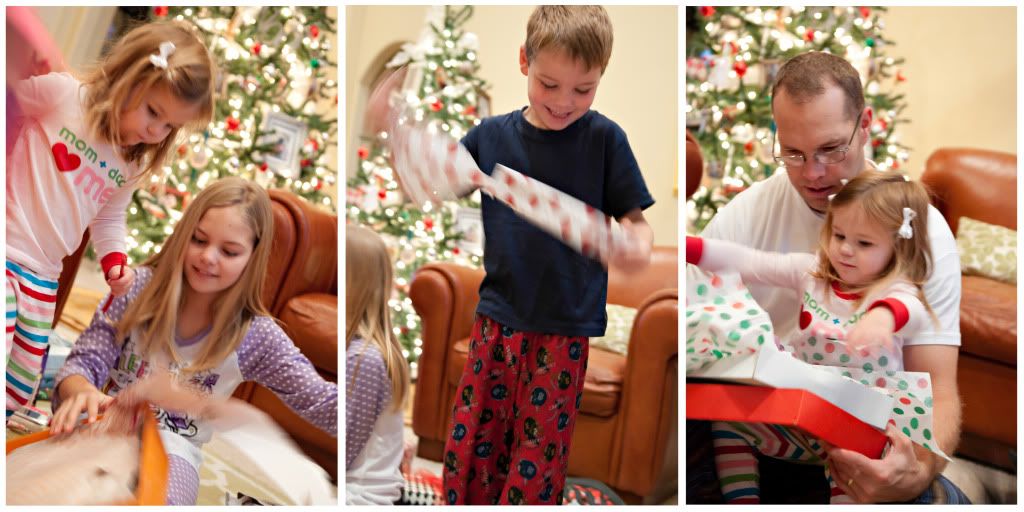 The look of excitement on their face makes all of the hard work and effort worth it.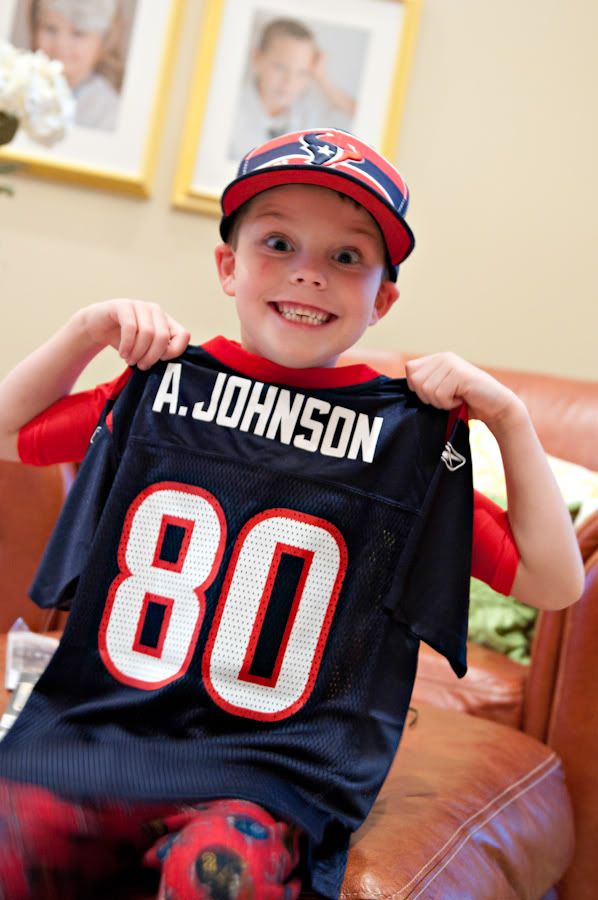 The boys said their favorite Christmas gifts were their Texans memorabilia and under armor shirts along with their rip sticks Santa brought.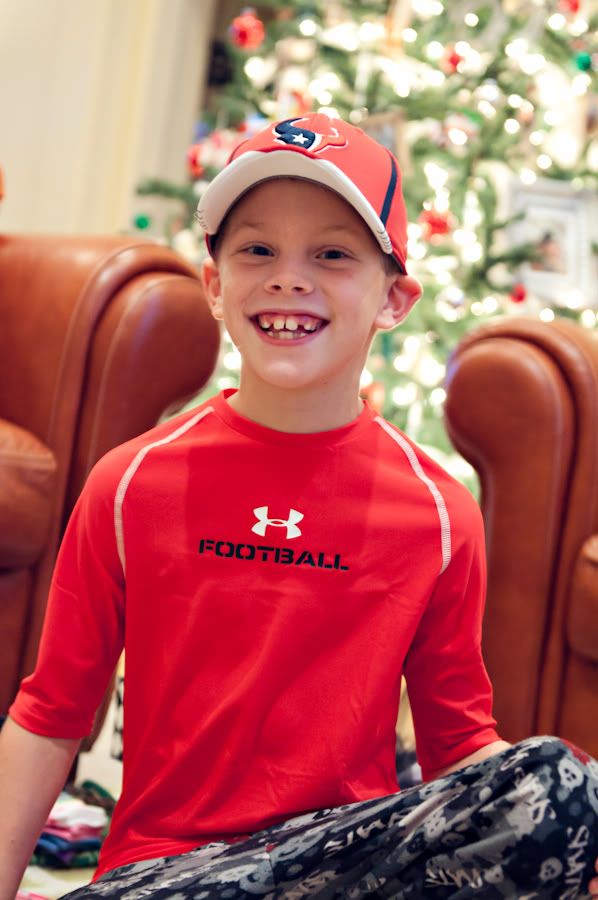 Kaylee's favorite gift by far was her ipod touch from Santa. We hardly saw her eyes for a couple of days. She is much better now. :)
Ady has lived in her princess dress ups every day since Christmas. Little girls this age are so much fun!
The money tree from Grandma was a fun, unexpected gift to open.
This year Casey and I decided not to exchange gifts from each other. We have some bigger things in mind we want to save up for. We had a great big pile of homemade gifts from our kids that we looked forward to opening. I forgot to snap a picture. I salvaged this wrapping after the fact. I love seeing their handwriting.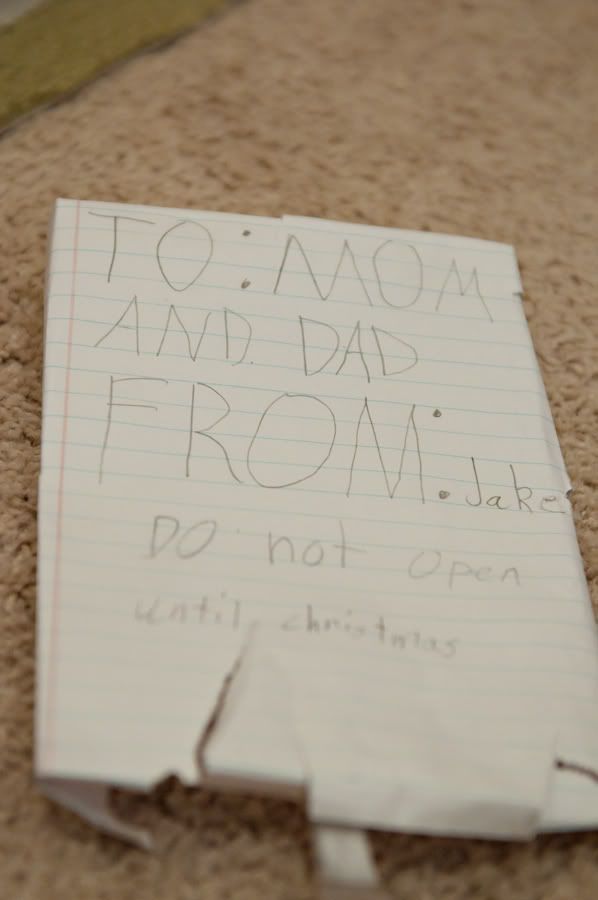 More than anything, it is fun to spend time together and celebrate this time of year. It is such a crazy busy month but somehow it brings everyone closer together.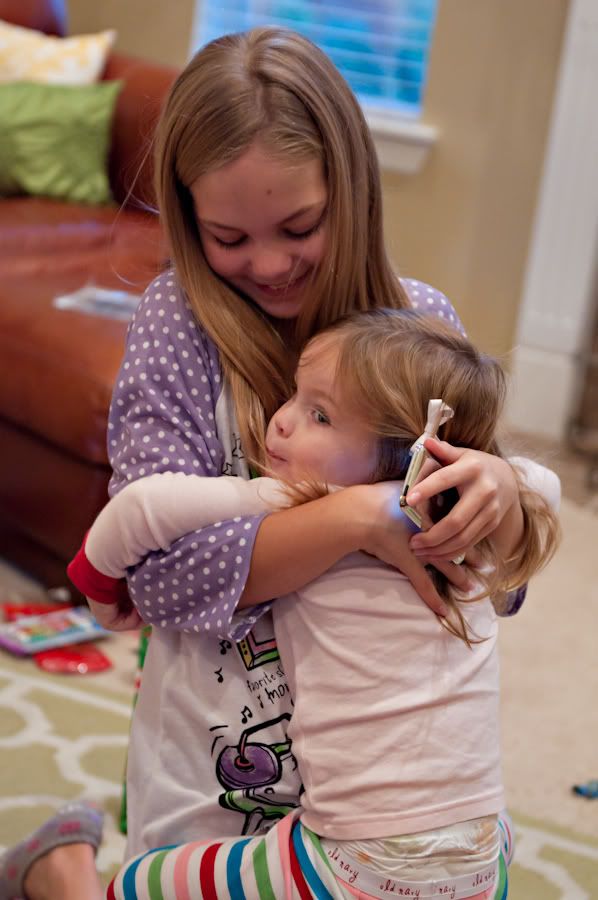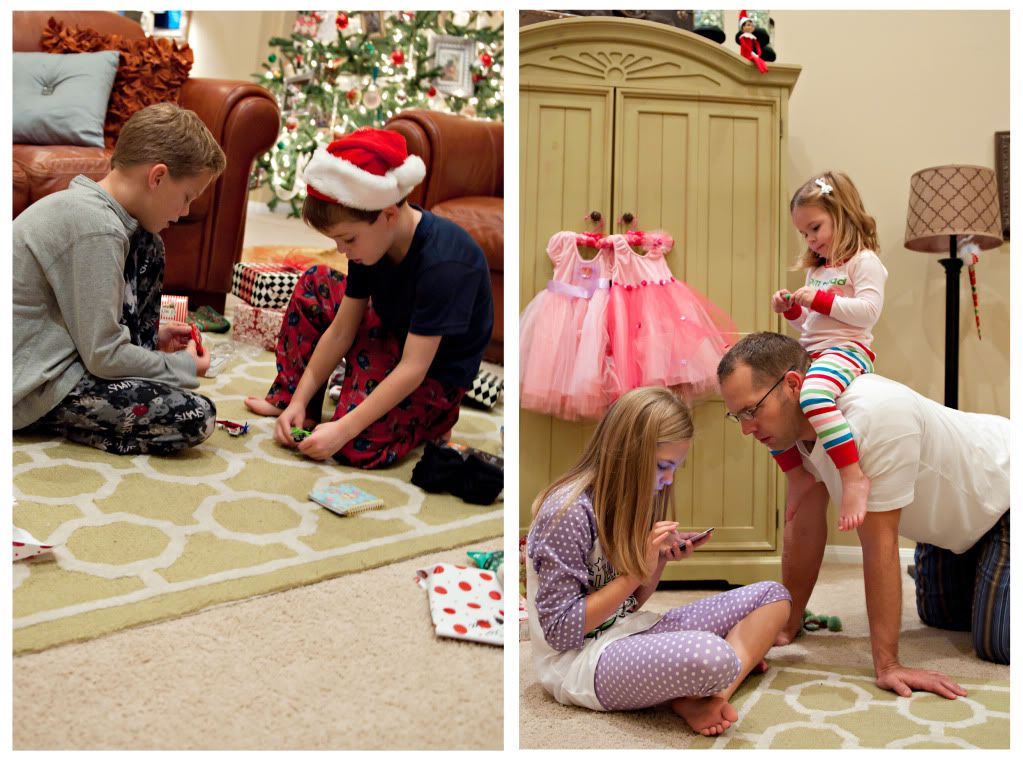 Another tradition we have is a yummy Christmas breakfast. Everyone anticipates it.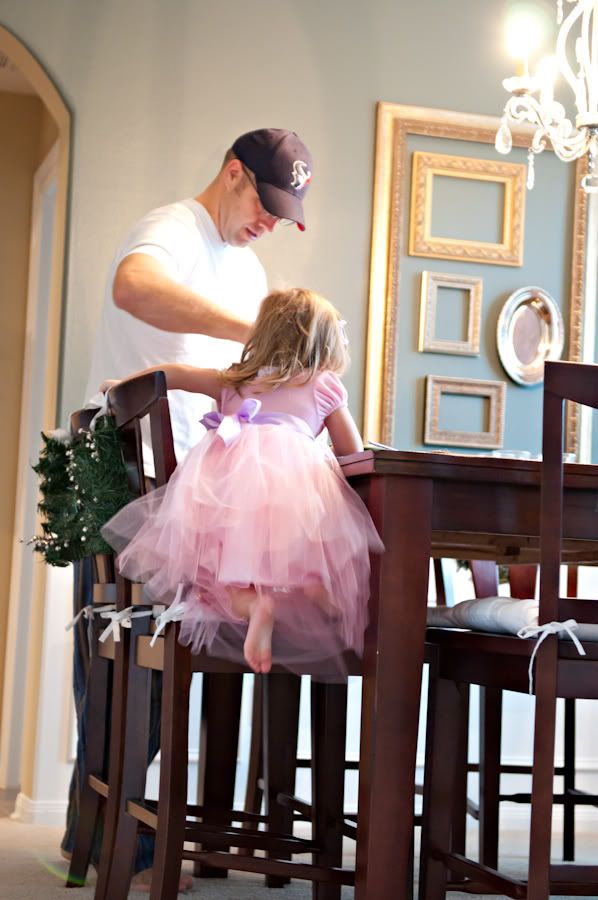 There is something cozy and comforting about being in a pretty room with the table set nicely and our family gathered together in our jammies for a yummy meal. These are really fun memories that my kids talk about every Christmas. Traditions mean so much.
On the menu was a breakfast casserole, cinnamon rolls, strawberries and homemade hot chocolate.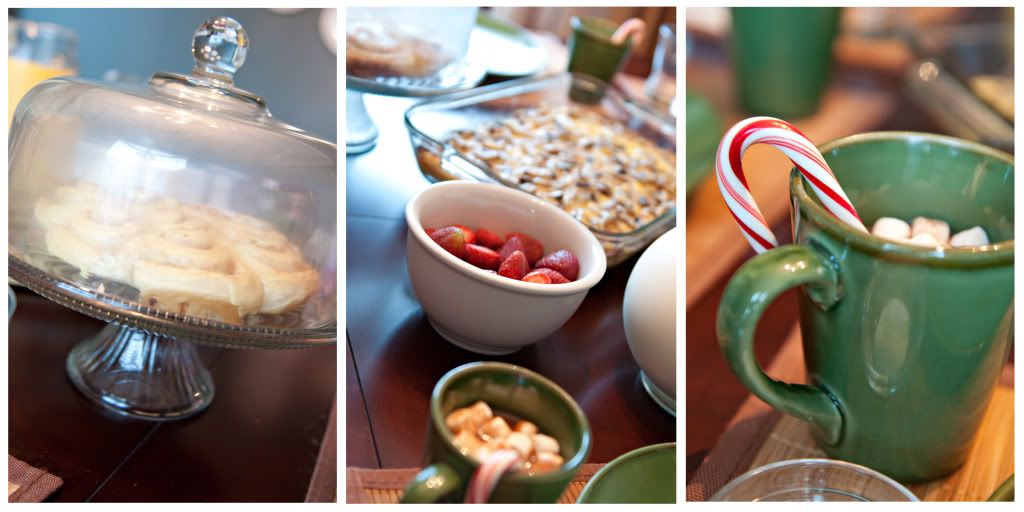 It was enjoyed by all!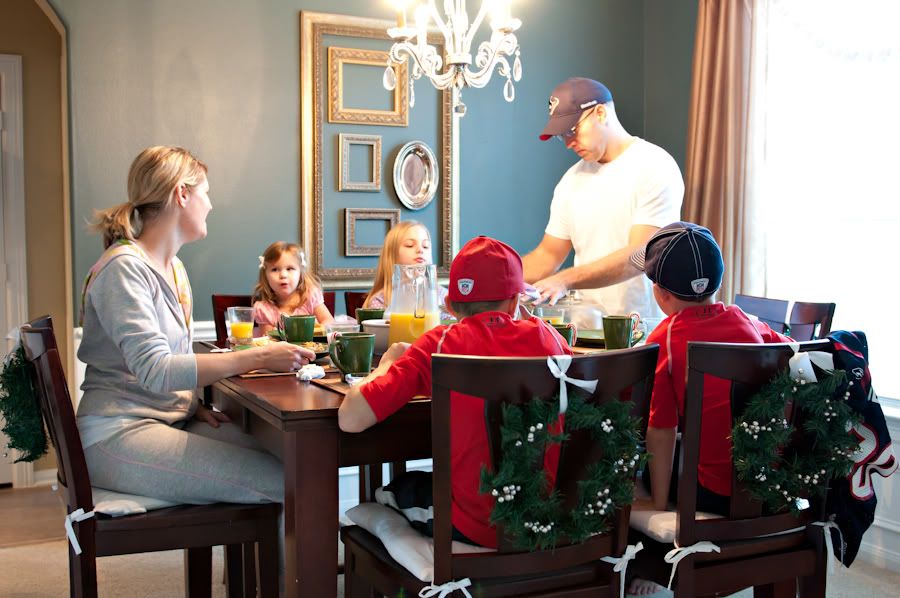 My husband did give me one very amazing gift that day. He finished the preparations with dinner, set the table, served it and cleaned up so I could enjoy reading blogs that I hadn't read in a month. He's pretty awesome!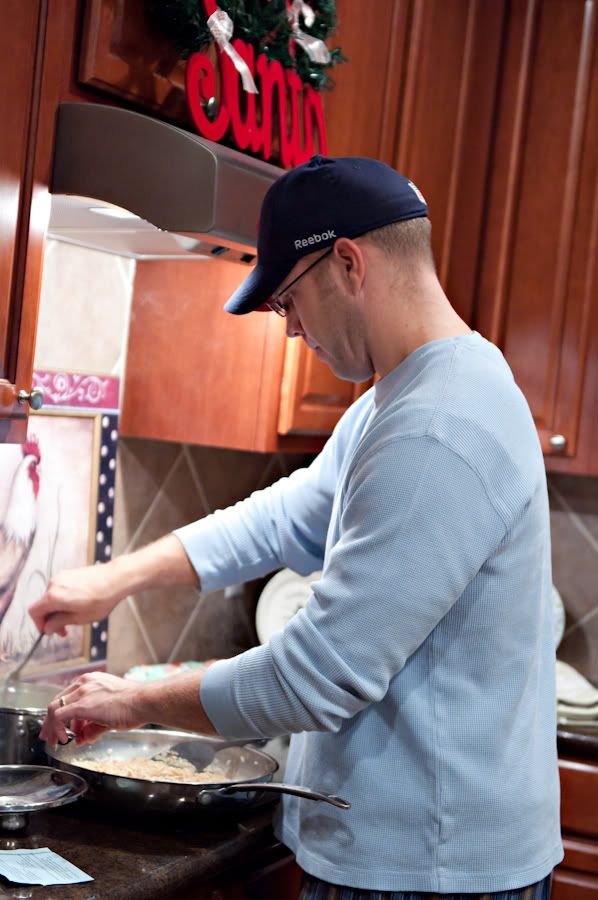 I hope you all enjoyed celebrating the New Year this weekend. I will be back soon to share about ours!