Click here for Potty Training Part 1Hi! I am back to share how I have potty trained all 4 of my children. I was lucky enough to have a neighbor and good friend in Utah share this method with me just before I started potty training Kaylee. That was over 8 years ago. I will be forever grateful to her for that. As a new mother who didn't have a clue where to start and really hadn't given it much thought; she gave me the tools I needed to be successful. I was sold when she told me her own mother potty trained all of her children this way. She happened to have10 children. She also potty trained her own (4 at the time) children the same way her mother did. Double sold. I thought it was definitely worth a try. Maybe this will help you too. Because of that, I share this info. with everyone.
Potty Training in one day
Supplies to get
-A lot of candy, snacks, kool aid, juice, sweet and salty things
-Underwear (heavy ones for first couple of days and normal ones)
-Plastic cover pants to go over the underwear for naps and night
-An apron for you to wear with pockets to put treats in (instant rewards for going in potty)
-Potty seat for toilet, stool and portable potty chair (so they can decide which to use)
-Poster board (you need to make a calling chart. Something where they can see to choose who to call when they go potty, photos helpful) * I have used scrapbook pages before just to save on prep time. Confession - I didn't do that this time. I did not have time. Instead I made a list for myself of who to call and then Ady decided by the names I said. If she wasn't my fourth one, I would have gone all out. That's my excuse anyway. :)
-Baby wet doll – *I had a hard time finding one of these. I had one with the first two, but with Drew and Ady I just used one of the dolls we had around the house. The point is to have the doll go pee pee in the potty to get your child excited. I just sneaked a medicine dropper full of water behind the doll and pretended she peed. It worked fine. It's up to you.
-Something to clean the "oopsies" with. * There is probably a better way, but I use an ammonia and water mixture in a squirt bottle and Febreeze when it is on my rugs (that can't be washed) or carpet. Or you could just hang out on the tile for the majority of the day. That is a safe place! You will need something to clean up the carpet anyway. It's bound to happen.
-Don't forget about treats for you. This is important. You are going to NEED them! Coke, chocolate and potato chips are always on my list.
Very IMPORTANT rules not to break
-It should be just you and the child you are potty training ALL day - no interruptions *I understand when you have multiple children it can sometimes be hard to find a place for them go, especially when they are not school age. See if a family member or good friend can take them. Maybe your husband can take the day off work or plan it for when he has the day off. I have done all of those. I can not tell you enough how important it is to have it be JUST the two of you all day. And when I say all day, I mean until dinner time or later. Plan on pizza for dinner! (My friend Sara brought us dinner. I was very lucky). Not only is it easier to teach your child when you are one on one with out interruptions, but they feel so important when they have you all to themselves. Especially on a day like this. Ok, I'm off my soap box. Moving on.
-Do not answer the phone or the door. This is not the day to chat on the phone or text. I always tell the people I communicate with regularly that I will be unreachable. There will be moments of boredom, but I promise you, the second you get into a conversation or get lost in texting you will have a pee or poop mess to clean up for sure. It's all about staying focused and not being interrupted.
How it Works
Start your day like normal. Feed him/her a good breakfast since it will pretty much be junk the rest of the day. (I will explain why in a bit) After breakfast, as soon as everyone is out of the house (and maybe after you have at least showered. You will be glad you did because once you start there will be no time for you.) start by playing with the baby wet doll. Say "Look! She has big girl (big boy) underwear on! You can wear big boy underwear too! Let's go put yours on! When he puts his on, have him wear just his underwear and a shirt all day. No shorts or pants. It's just easier that way and one less thing for you to wash. Then go back to playing with the doll again. All of the sudden the doll goes pee pee on the potty! "Oh my gosh! Did you hear that!? We are so proud of her! She gets to have a special treat!" Make sure that you have your apron on with "special" treats. Ones that are only for when he goes in the potty. Not for snack time. Give the doll a treat and say, "You can have a special treat if you go pee pee in the potty too." Have him sit on the potty and try right then. If he goes potty then get SO EXCITED!! He gets a special treat and then gets to choose someone's picture from the calling chart to call and tell about going potty on the big boy potty.
This is pretty much what your day consists of:
1. Go to the kitchen, start pumping him/her full of snacks (sweet and salty) and juice and water. Lots of liquid and food to keep him/her drinking. This step is very important. You want them to be drinking constantly, at first anyway. The sweet and salty snacks will make them want to drink, which is going to make them have to pee and that is what you want. Then you will have plenty of opportunities to teach them to use the potty. Remember this is potty training in ONE day, so it's a good thing to be running to the bathroom every 15 min.
My friend Tami, who has the same love for Coke as I do, dropped me by my daily drink. It never tasted so good! I usually don't ever share my drink. It's MY thing. Hands off kiddos…or you just might die. ;) Today was a little different. Ady always begs for sips of my soda. Today I shared a little bit with her. I happily let her sip through my straw knowing it would go straight through her and come out the other end in no time.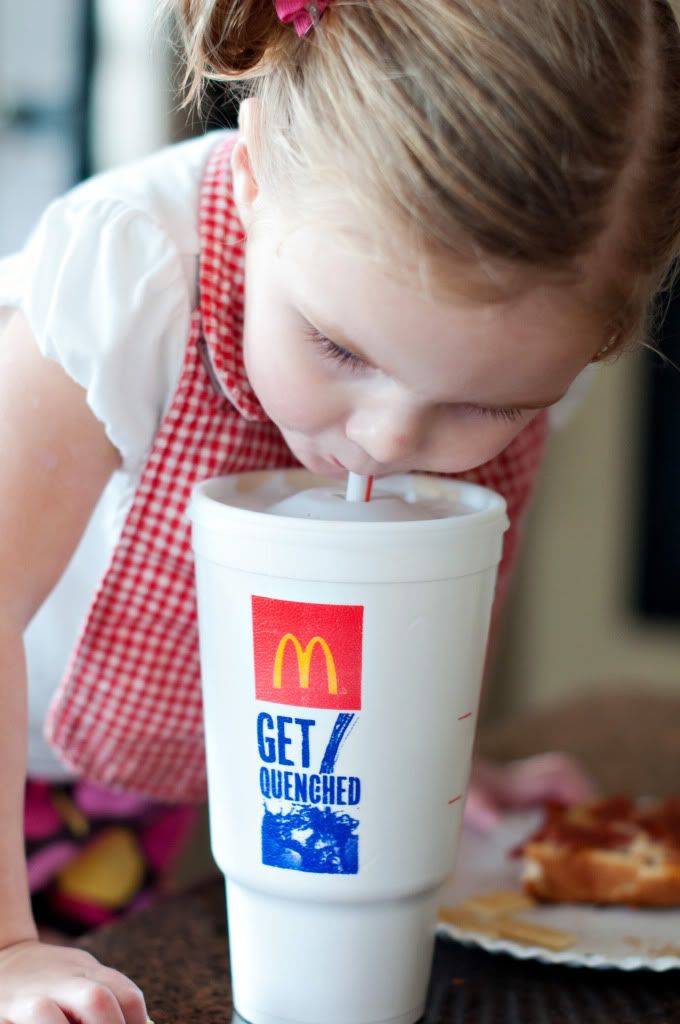 2. Set the timer for 15 minutes. In that first 15 minutes, start to play with the doll again and this time make the doll have an accident. When she has an accident run with her from the spot of the accident to the potty saying "No pee pee on the floor pee pee on the potty!", really fast 10 times back and forth. Each time saying that and pulling her underwear down and setting her on the potty. Do that same thing with your child when they have an accident. They might start to laugh and think it's a joke, but don't give up. Before you know it they'll be saying it too. Make sure and do that every time there is an accident, even if you really don't feel like it anymore. It's a very important step in the teaching process.
3. When he/she isn't eating, or running back and forth to the potty, stick to reading books or playing cars, Legos or some other toy or game. No T.V. or movies. They get too involved in that and lose interest in the day. Stick to activities that can be easily interrupted. Don't let him/her go outside. They'll lose all interest!
We stuck to Legos most of the day. I think she stuck to one thing because she loved that I was doing it with her.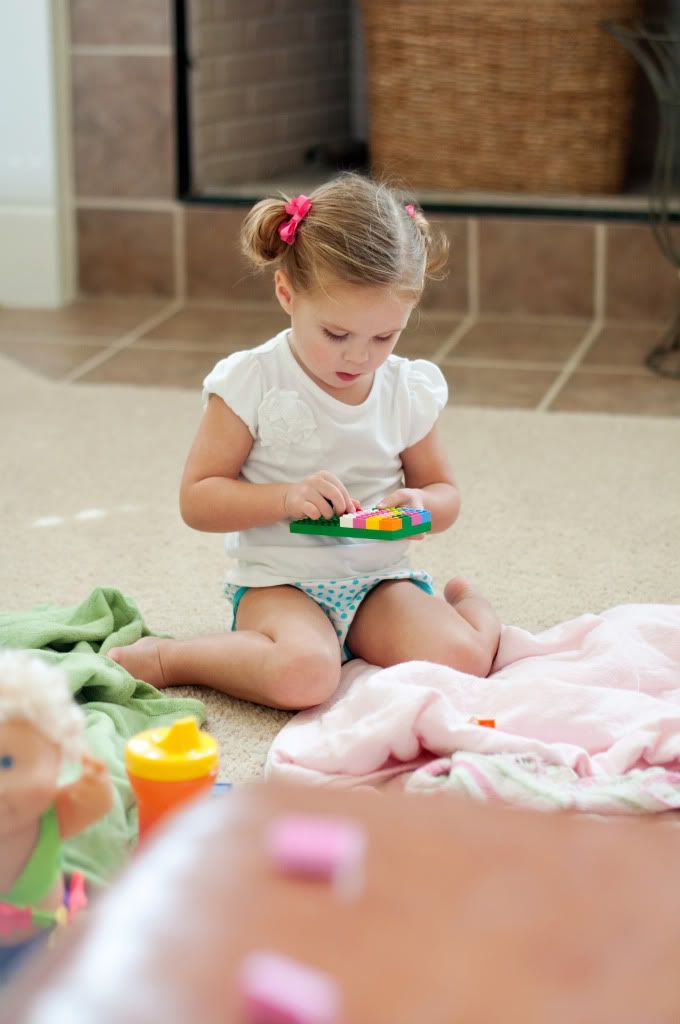 4. Eat a normal lunch and put your child down for a nap at a normal time.
*As far as your day goes, the main things are eating lots of things to make them drink. Going potty every 15 minutes. (Don't forget to set the timer). Reward them instantly when they are successful.
Ady loved pulling treats out of my apron.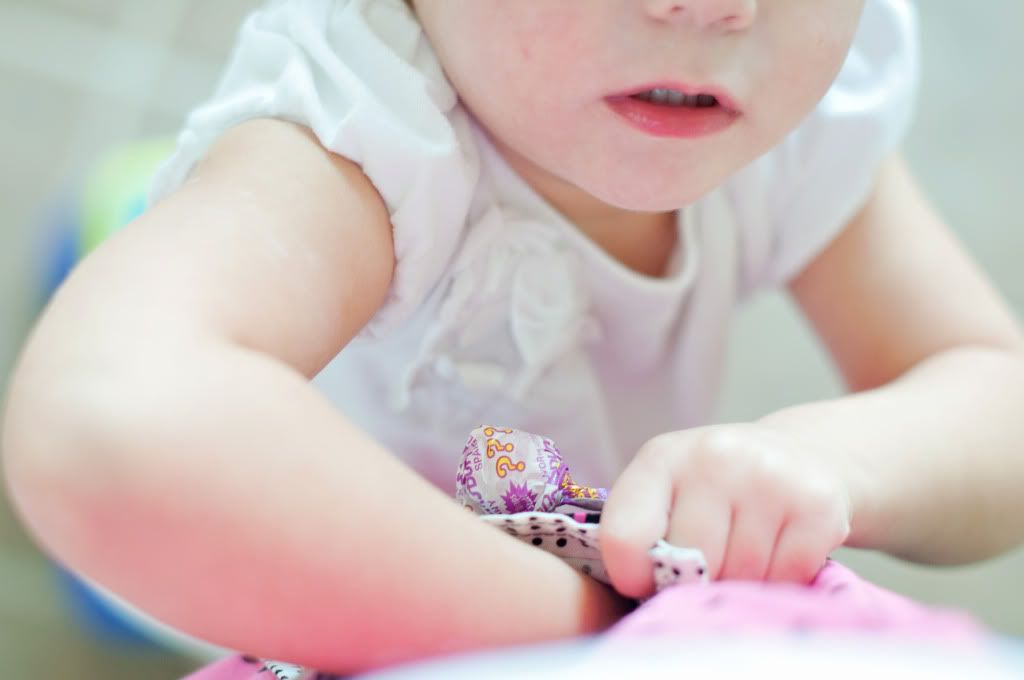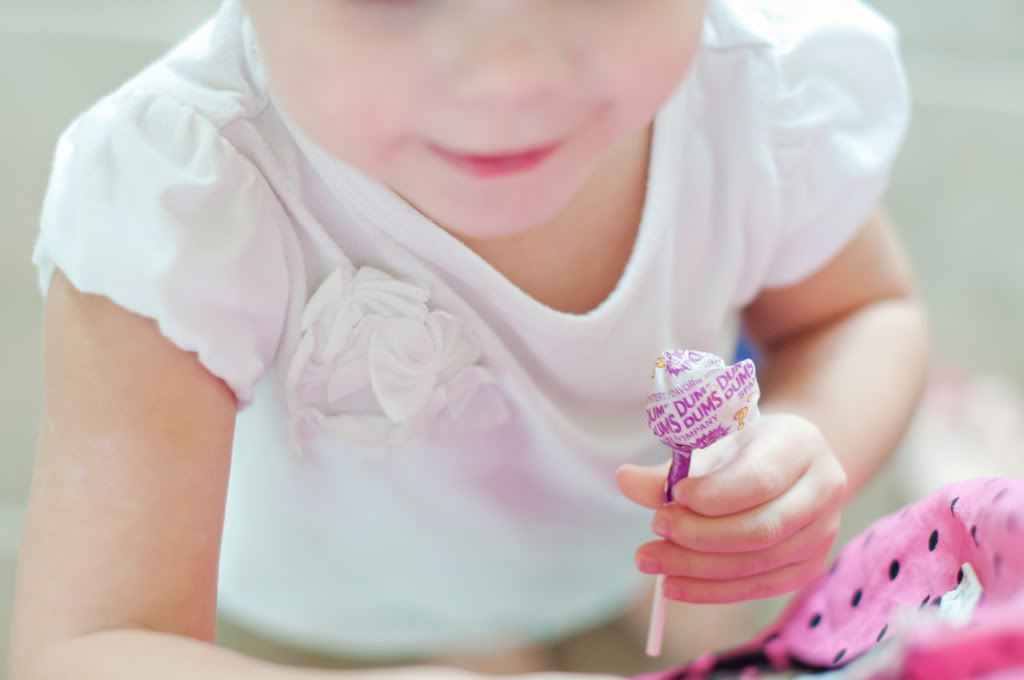 She also loved talking on the phone.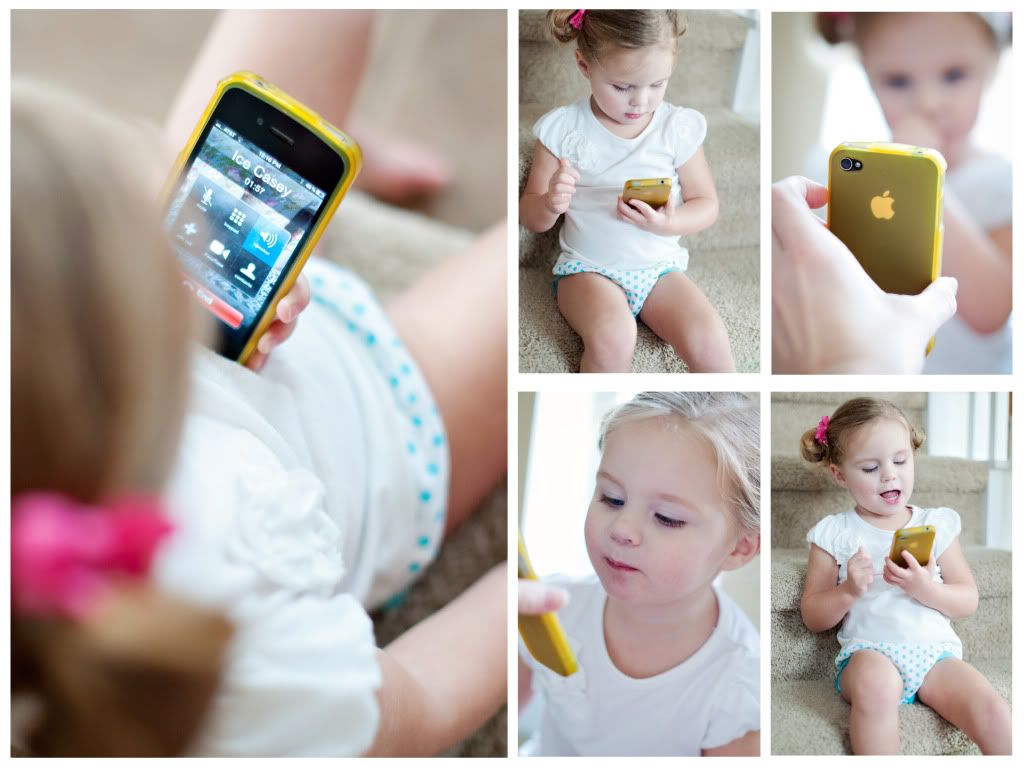 *Don't forget to run back and forth 10 times when there is an accident. I really think this is a vital part of the learning process. I have seen the lightbulb go on during this step with every single one of my children.
Tips and Suggestions
-Stay overly excited!
-Try not to get frustrated… you can do anything for a day and it's completely worth it!
-As far as the timer goes, sometimes it seems like they have an accident a couple of minutes before the timer goes off. It is the worst when you miss it like that! It makes me want to pull my hair out. If that happens adjust your time and remember to follow your instincts! If the timer goes off after 15 min and they still don't need to go potty (even after they tried sitting on the potty) then it is pretty safe to say that if you set the timer for another 15 min. they are going to pee on the floor. Instead, set the timer for 5 min. intervals until you catch them being successful on the potty. Then start it over at 15 min. again.
-I find that we end up sitting on the potty for awhile waiting for something to happen. If it's been 15 min. I want them to sit on the potty and wait. I can't stand missing it and then having to deal with an accident because we weren't patient enough. I will sit in front of them and sing songs or play some kind of hand game to keep them entertained. (like itsy bitsy spider, this little piggy, pat a cake, pat a cake or whatever else you can think of).
-It seems like after lunch or nap time they lose interest a little. Save some tricks for when that happens. Make up a potty game or song. Instead of a timer on a microwave use one that rings or sounds different. If he/she gets tired of the real potty put out the portable one. Brainstorm about some things like that.
-This is pretty much common sense, but when your child has an accident make sure and say "EWWW! Pee pee is so stinky! We don't like to clean up accidents!" not "You stink!, Your pee smells so bad! Or Your Gross!"
-Make sure and have some kind of plastic cover over the mattress under the bottom sheet in case there is an accident at night. You could buy a water proof mattress cover.
-Don't go back to diapers. Not even pull- ups at night. Once you start just keep going. No matter how hard it is! They'll get the hang of it. They need to know that he/she is a big boy/girl and they don't use diapers anymore. This is up to you and all children are a little different when it comes to night time. I personally feel like they have to learn some time and I am all about diving in and not looking back. Plus Pull-Ups pull the moisture away from them so they aren't as aware of an accident.
-Consistency, consistency, consistency!!!! There is really nothing else that needs to be said about that one.
*So you train in a day and then you have to reinforce for about a week. I'm not going to sugar coat it and tell you that after ONE day they are fully potty trained. There will still be accidents here and there. They are going to get distracted or lazy. It happens. Don't expect them to all of a sudden go potty all by themselves every single time. You are still going to have to do some reminding. Did I already mention being consistent? I will assure you that the majority of the teaching happens on the first day. You will see it click sometime during that day. However, do not expect to go back to your normal routine the next day. The second day was worse for us then the first day. I always forget that until I am experiencing the second day, but it has been that way for us each time. It's not quite as exciting for them on the second day and you are ready to have a "normal" day. The third day is better. It clicks for them again and you are back on track. You probably won't want to leave the house for the first week, unless it's a very quick errand and you take a change of clothes. (Keep the change of clothes with you for longer than that) Always have them go potty right before you leave the house. You will probably have to ask every 30 minutes or so for the next couple of days if they need to go potty. If the answer is no, you might need to be a little persistent and just get them to "try" every so often. It's a busy, tiring week (you might even wish for diapers again), but it's all worth it when you can tell it has finally clicked! Don't forget to have them stop drinking at least an hour before bed and don't let them go to bed with a sippy cup until there are no more accidents at night. We always wake our kids up to try before we go to bed.
That's a rap for the big potty training post. Phew! Thanks for hanging in there with me.
GOOD LUCK!!!!!!! You can do it!
* Questions answered in the comments. Please look through the comments for answers to your questions first. I can not answer every question, especially if I already have. I hope you understand. Thank you for your interest in this post. I am thrilled that I can share something that is helping so many of you.
The #1 most asked question is "What age is best to potty train?"
My answer is 2 – 2 1/2. I usually start shortly after they have their second birthday. I do not go past 2 1/2. The closer they are to 3, the harder it is. They tend to get more stubborn and set in their ways and they care less about losing the diapers. Around their second birthday they are so excited to grow up and be big like "so and so" is. You are able to feed off of their own excitement and encourage them to take the next big step.