The Birthday Boy was Jake!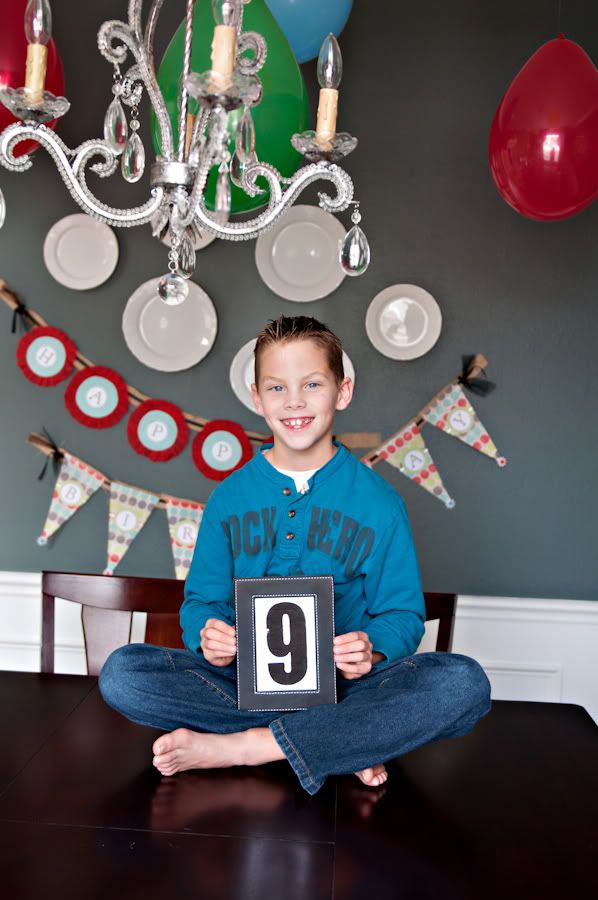 He turned 9 in the middle of January. I can't believe how late I am with this post! I am going to get some catching up done this week on the blog.
His birthday was on a Sunday. Which made our breakfast in bed tradition a little tricky considering we have church at 9:00 a.m. The kids had the next day (Monday) off from school so I told him we could do breakfast in bed then. I tried to get him all excited about it by saying we could do Cold Stone on Saturday, birthday dinner, cake and presents on Sunday and then breakfast in bed on Monday. Doesn't that sound like so much fun to celebrate a little each day?
He didn't think so.
There was no way he was going to let me get away with serving him breakfast in bed on a different day. Well, ok then. :) It's nice to know that the birthday traditions we have created mean something. That is the whole point!
So it was a quick breakfast of Egg McMuffins and OJ. His request.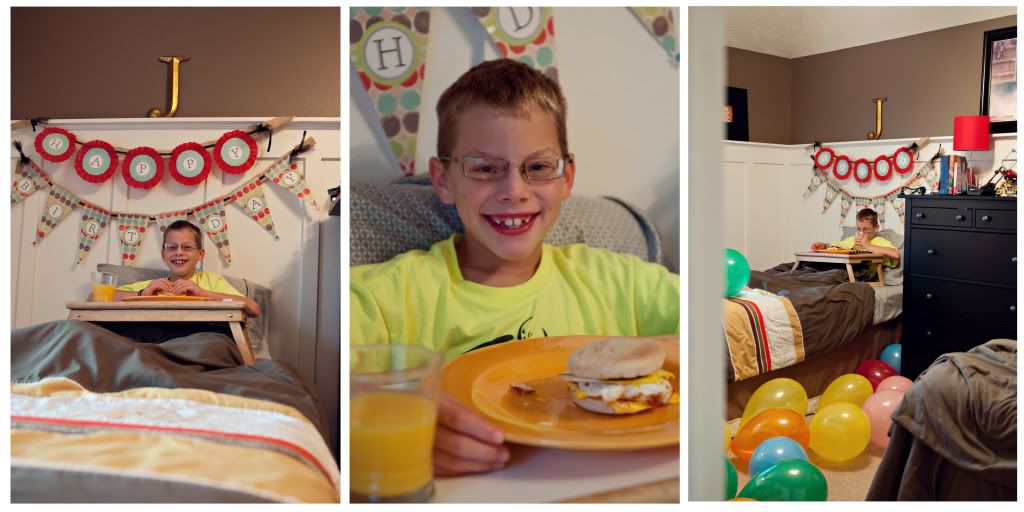 Later that night we had a little family birthday party for him. We do a family party each year and it always consists of a birthday dinner (his choice) presents, cake and then just spending time together. Usually playing with whatever it is he got that year. Every other year we have a friend party also, always on a different weekend. They like to celebrate with friends too and I understand that. I have to admit that it was nice this time to have it be an off year. I didn't have to worry about planning a different party and spending the extra money.
So we partied at home as a family.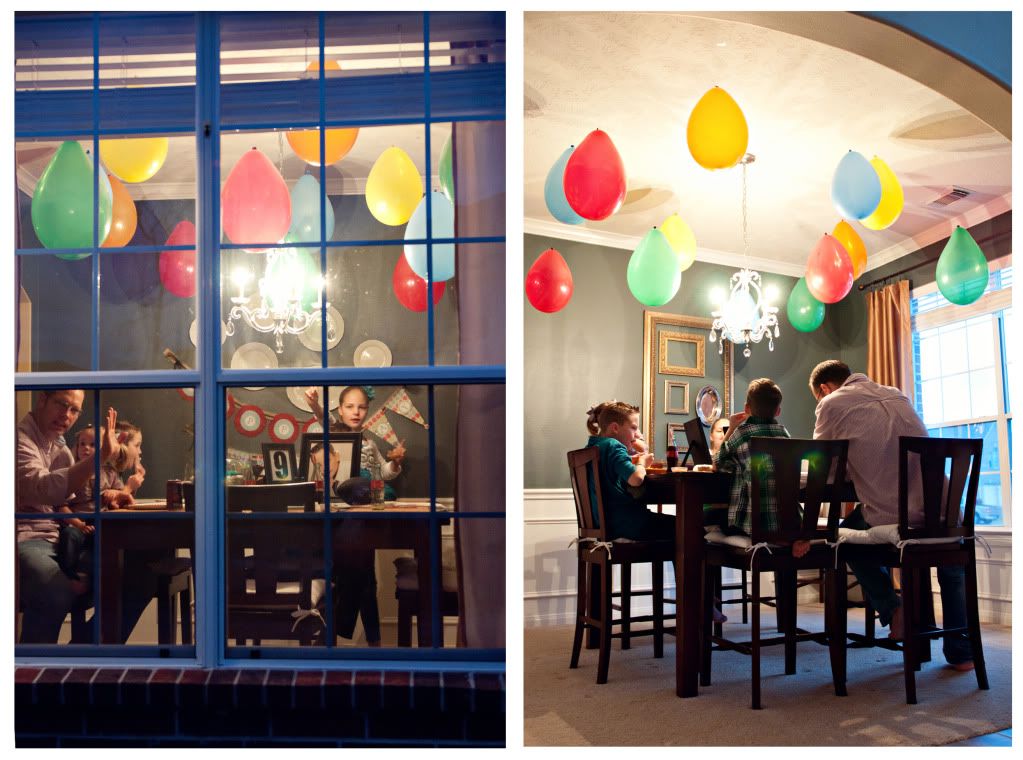 Here is a confession – I care about lighting for parties. Gasp! I know I'm not the only one. :) I kind of plan the party around the light. It makes the pictures more fun and easier to take. Well that didn't work out for me this time. There was something called a football game (or 2) going on and I couldn't get my boys away from the T.V. Since it was his birthday and all I let it slide. I know, that is so thoughtful of me! :) It kind of set a theme for our party that I wasn't aware of. Instead of eating in the dining room we should have been eating at the bar in the kitchen or taken it to an actual sports bar or something. All manners were thrown out the window this night. I am giggling right now thinking about it.
Before I get into the details here was his tablescape. I kept it super simple and grabbed some things from Jake's room that represent him right now.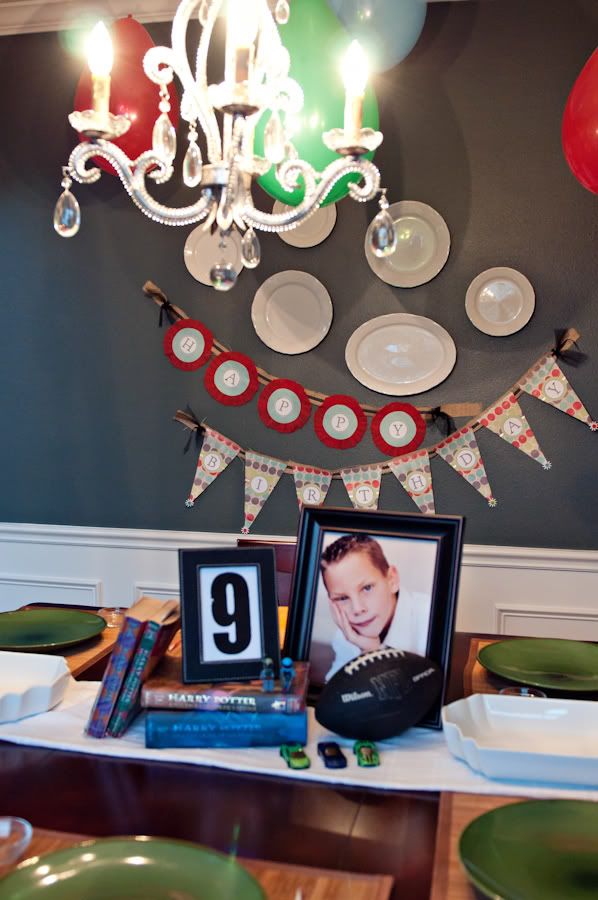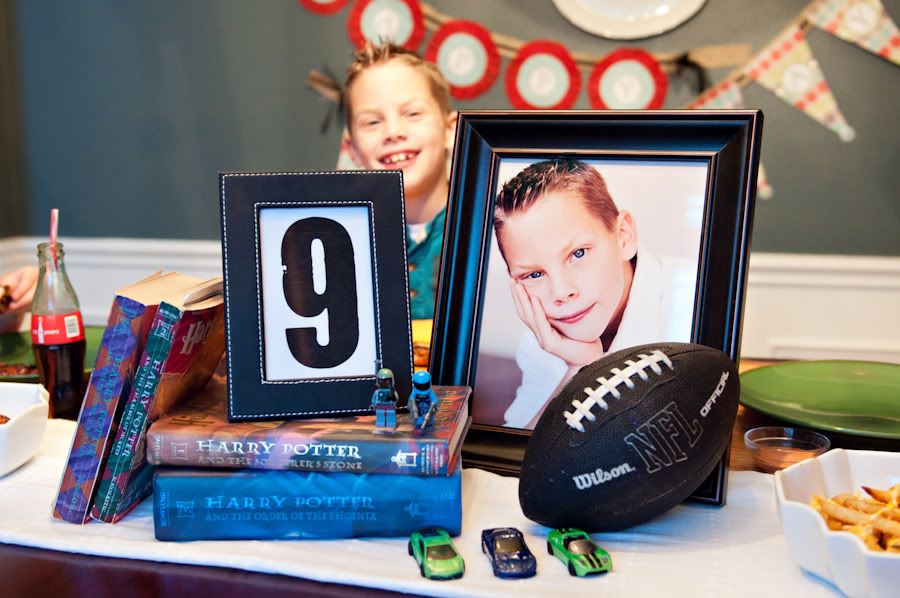 About Jake:
He is very handsome if I do say so myself. I love that picture of him.
He just turned 9.
He absolutely LOVES football.
He still plays a lot with his Hot Wheels and Legos.
He is currently spending A LOT of time reading and I mean A LOT! He will read late into the night (with out me knowing about it) and then tell me he has a headache the next morning. Now I know why! He LOVES the Harry Potter series and is currently on #4.
On the dinner menu:
wings
cheese fries
blue cheese and ranch to dip
lots of Coke.
Are you seeing a theme here? So far we have football and your typical sports watching food. The food btw, was gone before I even had the chance to take pictures. I guess you can tell how much they loved it!
They were eaten to the bone! This is where things got a little crazy and our manners were long gone. There was a lot of finger licking that included the slobbery smacking sound, even though we had napkins. (yuck!) There was an intense burping contest and lots of laughing. Definitely not my proudest mom moment but it is always fun to hang out with the family and have some laid back fun.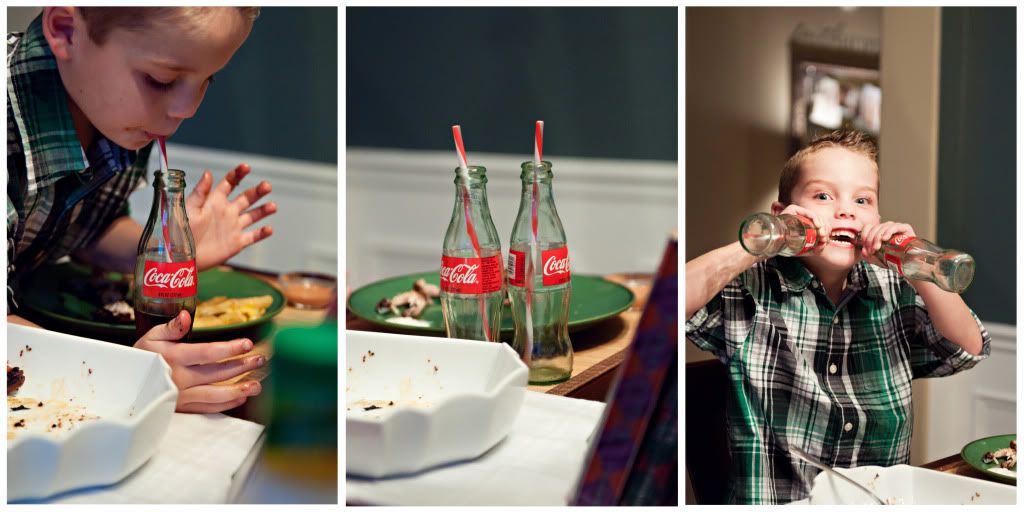 After dinner was done, Jake moved on to his presents. I love how Ady has to be involved. You can tell in the first picture he is trying to be patient. He is such a good brother and of course let her be a part of it.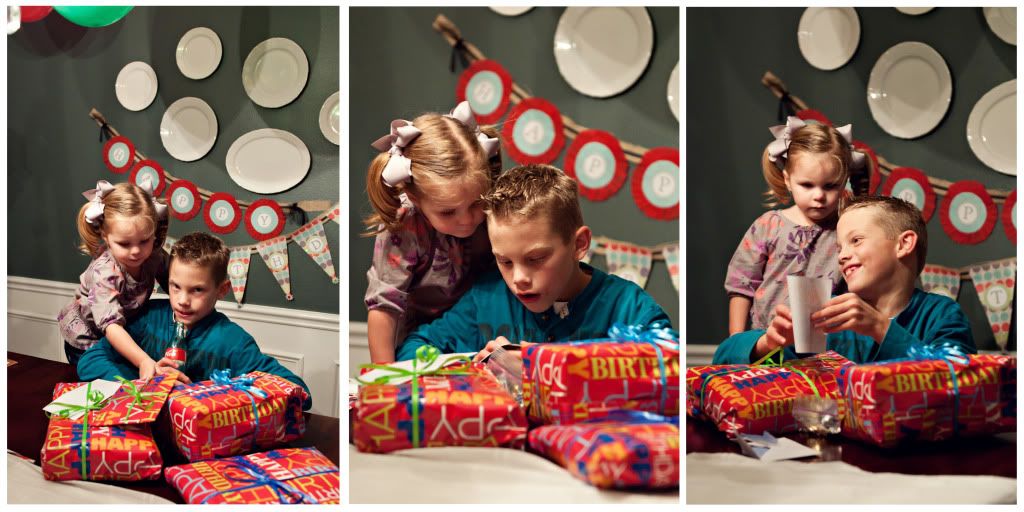 Then candles and cake.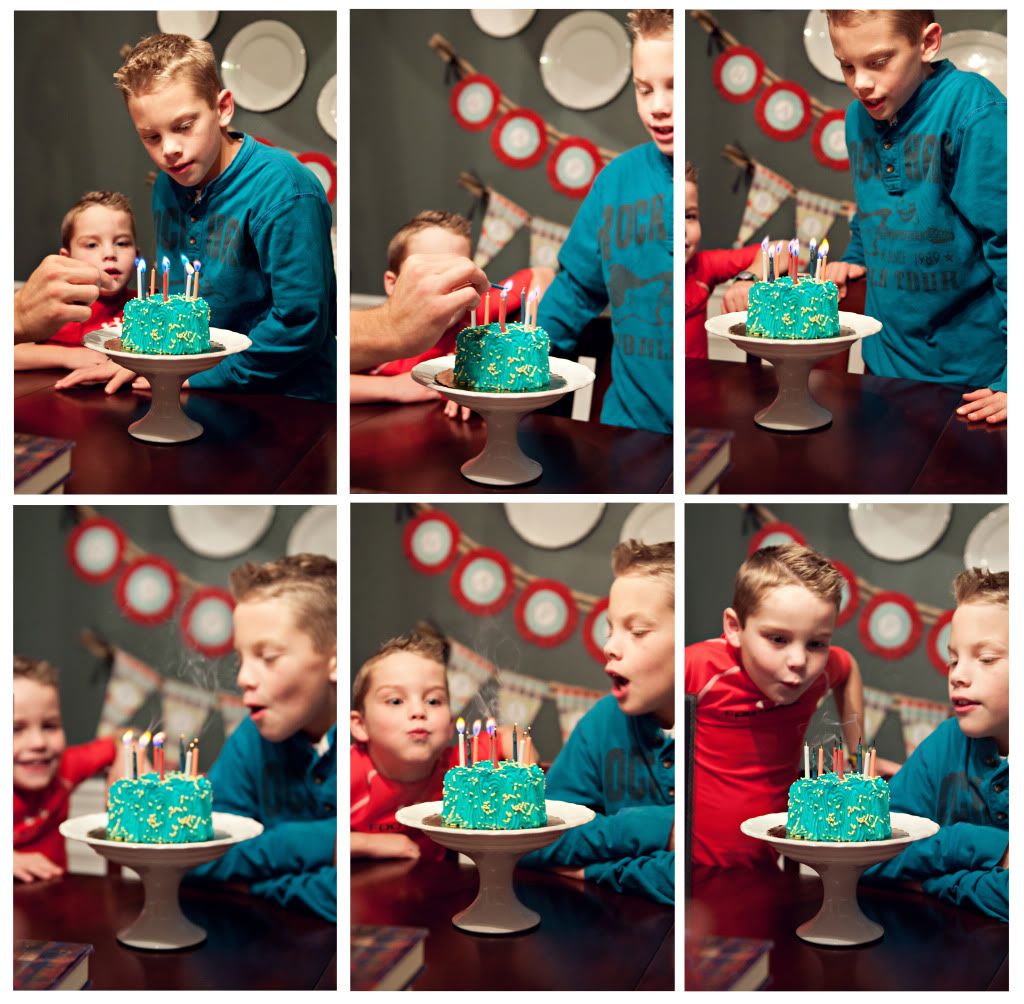 Did you notice in the series of pictures that Drew snuck up on Jake and "helped" him blow out the candles? Typical little brother. Jake wasn't too happy about that.
When I asked Jake what kind of cake he wanted he said his very own little one. That was easy enough. I just bought one from the store. The rest of us had to have something too so I made these Homemade Oreo Cupcakes.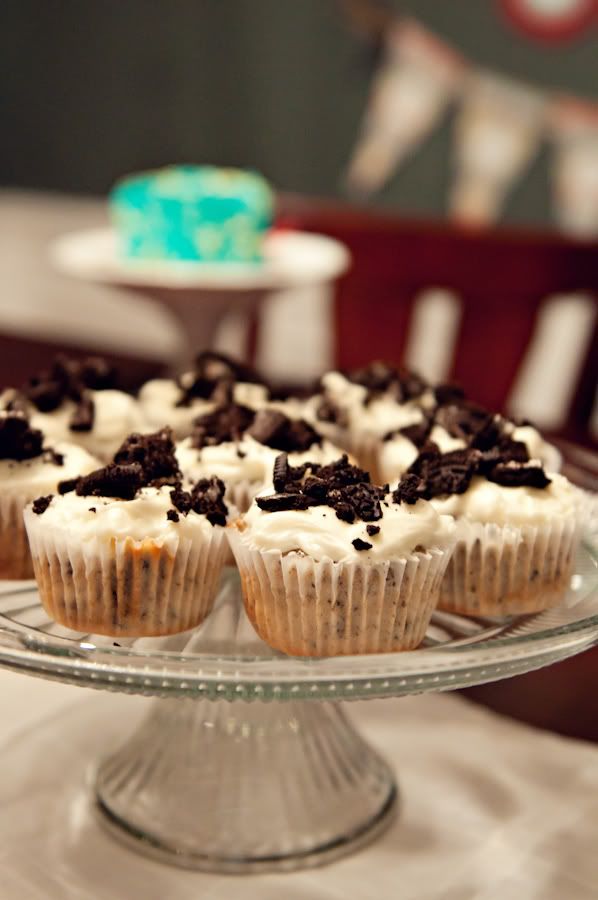 They are delish! You MUST try them!
One of the things Jake got for his birthday was boxing gloves. Drew got a pair for his birthday and Jake has been wanting some ever since. Of course they had to try them out. Which raps up our little sporting theme party that I had no idea was going to be a sporting themed party. Hahaha…
We used our dinner bell to start the boxing round. How convenient, right? They put on the appropriate attire which consisted of boxing gloves and stripping off their shirts. A little lesson from dad (which they didn't need) and the boxing began. Casey got some of it on video which we all got a good long laugh about. It is one we will keep forever!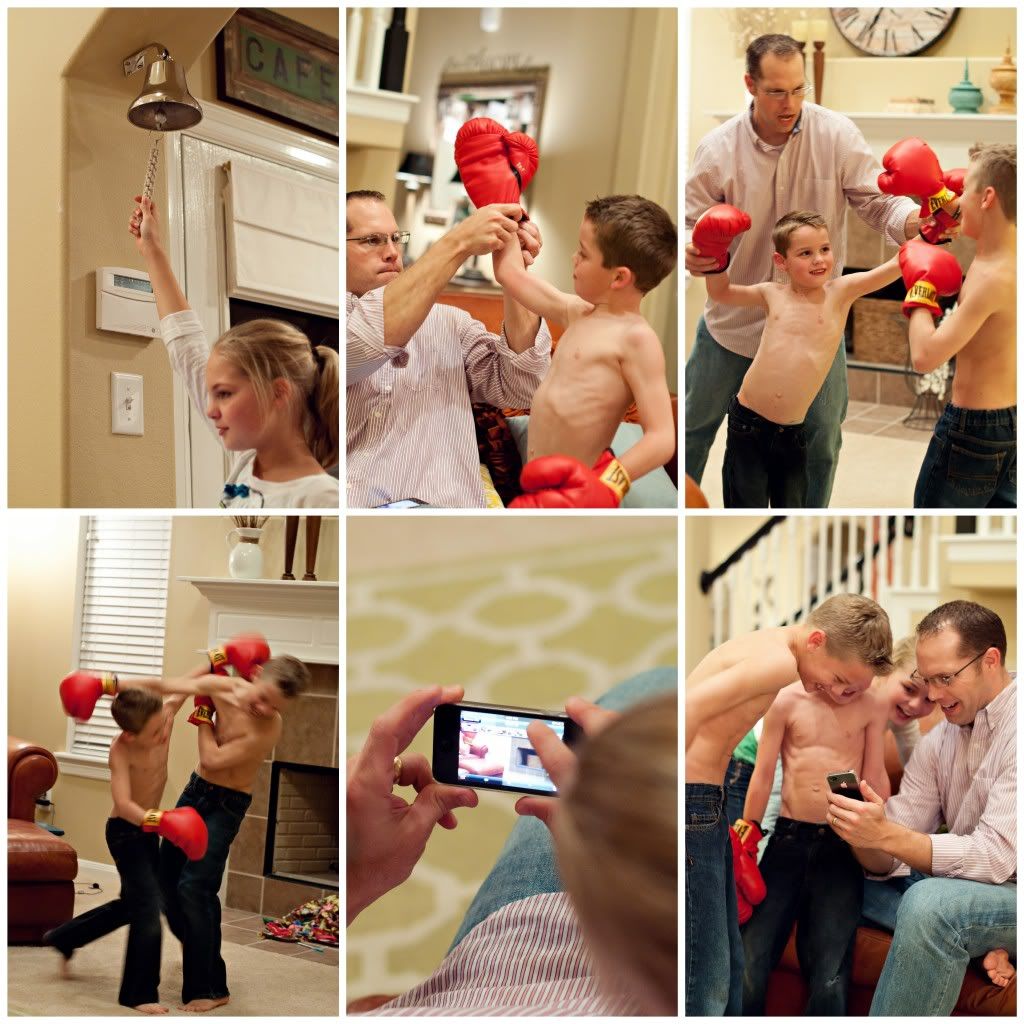 It was the perfect way to end our night and Jake's birthday. I think he got to do exactly what he wanted to.
Happy 9th Birthday Jake! We love everything about you!
P.S. This would actually make a fun themed friend party. Plan your child's party around a game they are looking forward to. Invite friends over to watch the game and serve sporting related food. You could set the kitchen up like a "Sports Bar". (I hate using that phrase for children, but you know what I mean) Finish it up by playing whatever sport they were watching out side. They can have a game of their own. Doesn't that sound like fun? I know my boys would love it. I am going to save this one for sure!