First of all, I am sorry for abandoning the blogging world for over a month. I can't believe it has been that long! Not only have I not posted, but I haven't read one single blog. I have a lot of catching up to do! Second of all, I am sorry that I am posting about our Thanksgiving trip when it really is time for me to be posting about Christmas. Sheesh! What am I thinking!? Well…it has been a crazy Christmas blur around here (as usual in December). Blogging had to go for me. I am ready to get back in the game now that my to-do's are all done and I am feeling organized and put together, finally. :) This post is for me. I can't move forward on my blog until I record Thanksgiving. Otherwise the pictures will sit here on my computer until I scrapbook them. Which will happen in…ohhhhh…3 years. Maybe. That's the rate I'm going. :)
Anyway, we took about 11 days off and went to Arizona over Thanksgiving to visit my side of the family. We stayed with my brothers family. They were awesome for hosting us for 9 days. We are lucky they love us so much! I have a lot of pictures to share, so I will get to the point. Our trip started out with Ady and Beck getting to know one another…again. They change so quickly that every time we get together they have to start over.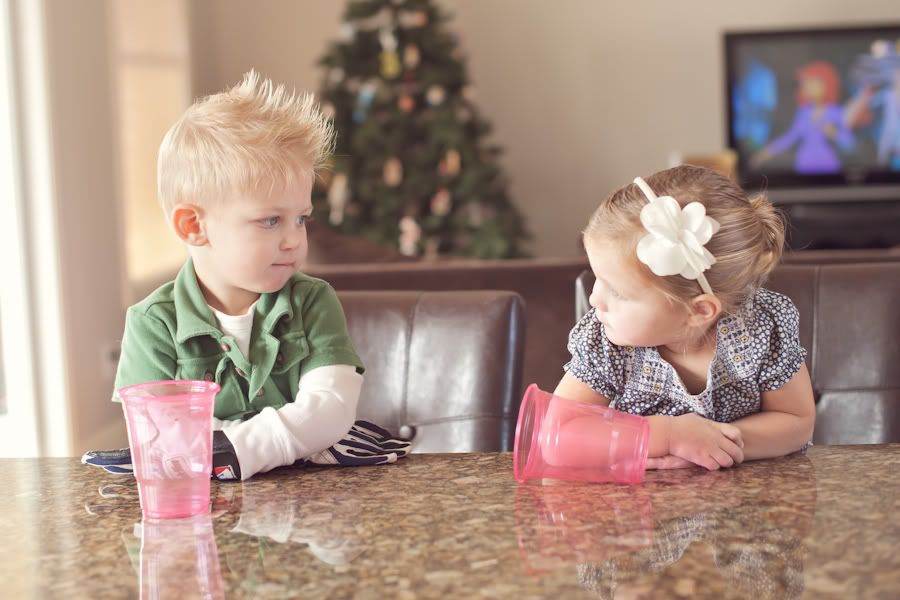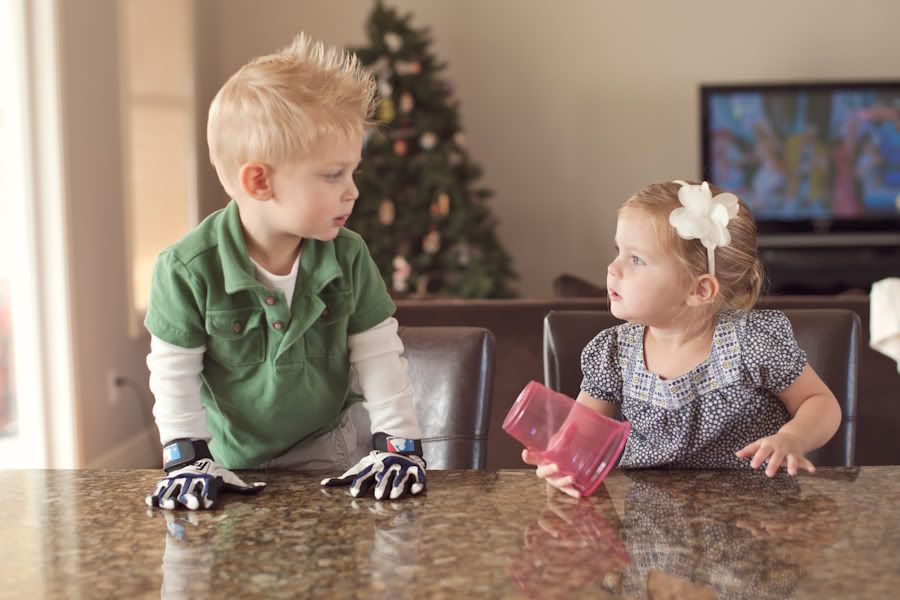 They had to decide who the boss was. They decided to take turns. Most of the time. :)
My brother in law (Nick) had a birthday. We all got together at my parents house where we "surprised" him with a little party.
The kids enjoyed playing with the bubble machine.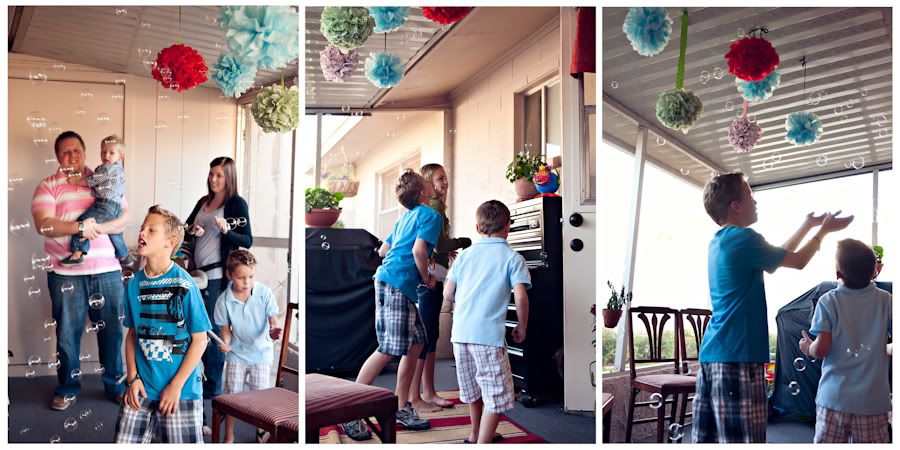 And Jake enjoyed teaching the little boys a thing or two about football.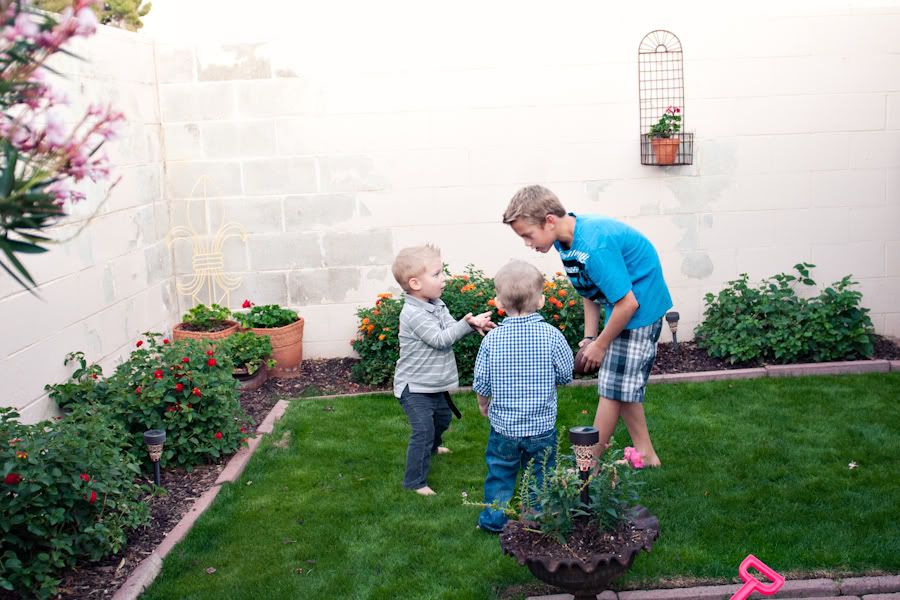 He is such a good big cousin. He is so patient with his little cousins and just loves hanging out with them. It is really sweet.
I think the entire family would agree that our favorite thing was cooking dinner and roasting marshmallows by the fire. Brandon and Beth's house is set up perfectly for entertaining outside. In Arizona this is the perfect time of year to take advantage of that, so we did. Twice actually. The kids had so much fun the first time, they begged us to do it again. They didn't have to twist our arm. We loved sitting by the campfire too.
We cooked Cuban sandwiches and then roasted marshmallows.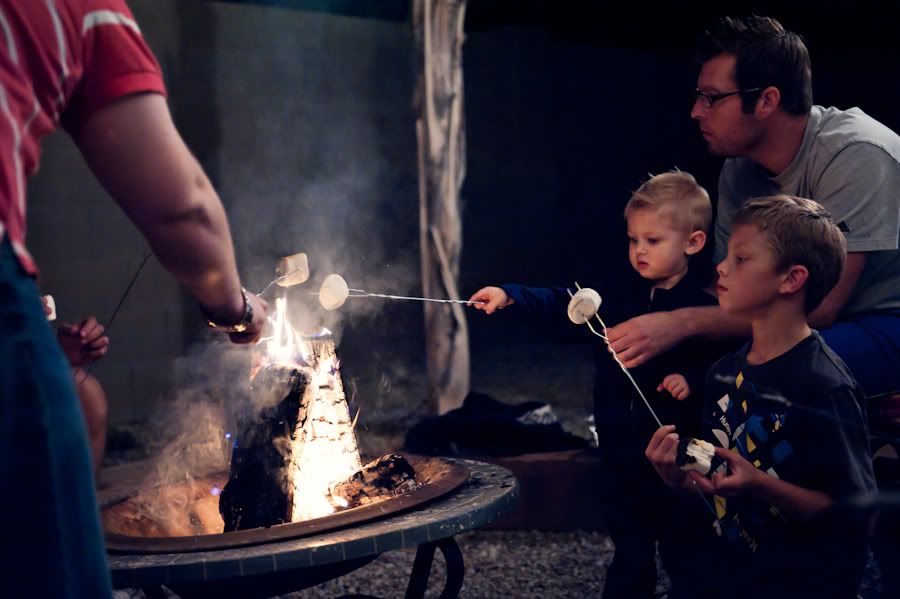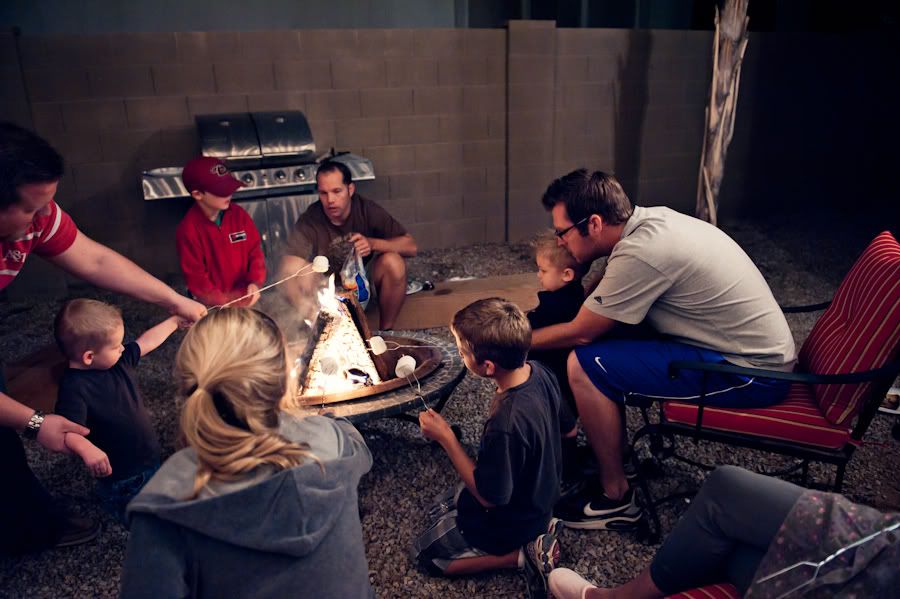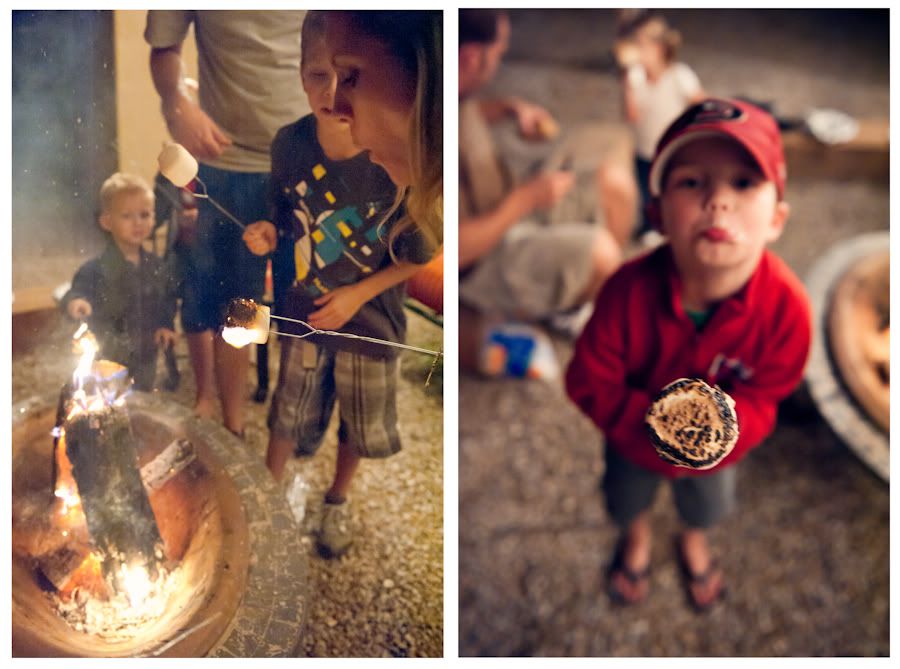 Thanksgiving day came and the only picture we have of that day is the family photo Beth and I took for my parents. My mom has been wanting a new family photo for awhile now, so we finally gave in and made it happen. Neither one of us are big fans of doing extended family photos. Not even for our own family! It turned out cute though and my mom loves it. This is my family.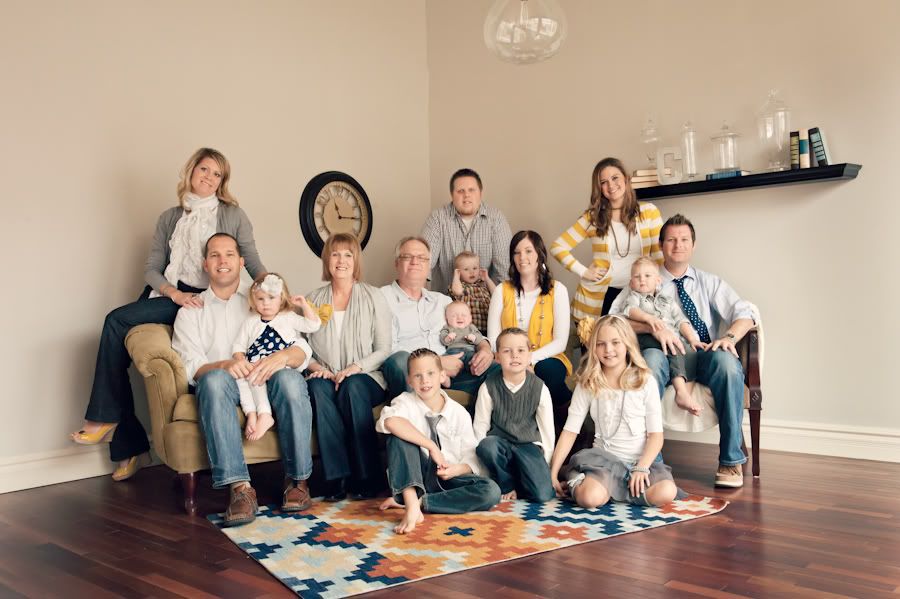 The day after Thanksgiving we started our Christmas by going to see the Zoo Lights. The local zoo lights up the entire zoo. Besides how busy and crowded it was, we had a lot of fun. There were so many lights and the kids loved it.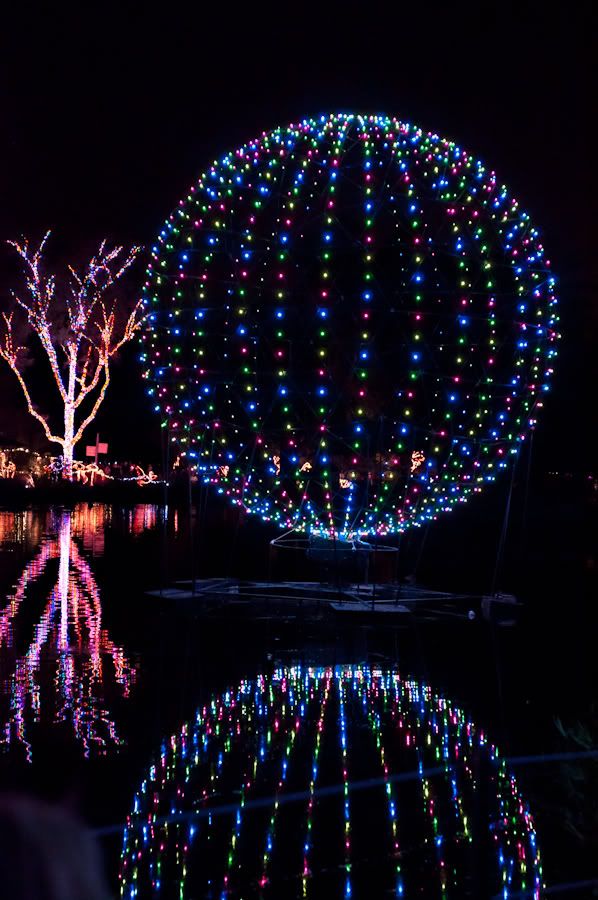 On our way out we let them ride the carousel.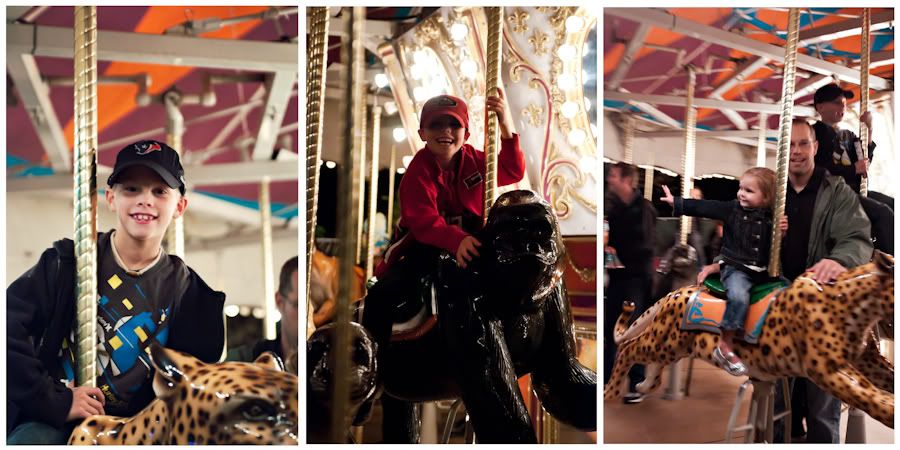 During our trip we had two mishaps. We can't take a vacation and not have something happen! It must have been the second or third day we were there when Kaylee tripped on a piece of hardwood floor in the kitchen that they were repairing. She hurt her toe so bad. The poor girl was in a lot of pain and down for a little while. It isn't hurting anymore, but her toenail is still black. We are waiting for it to fall off. Sick! Ady, who looks like a monkey in this picture, sat by her sissy and kept her company.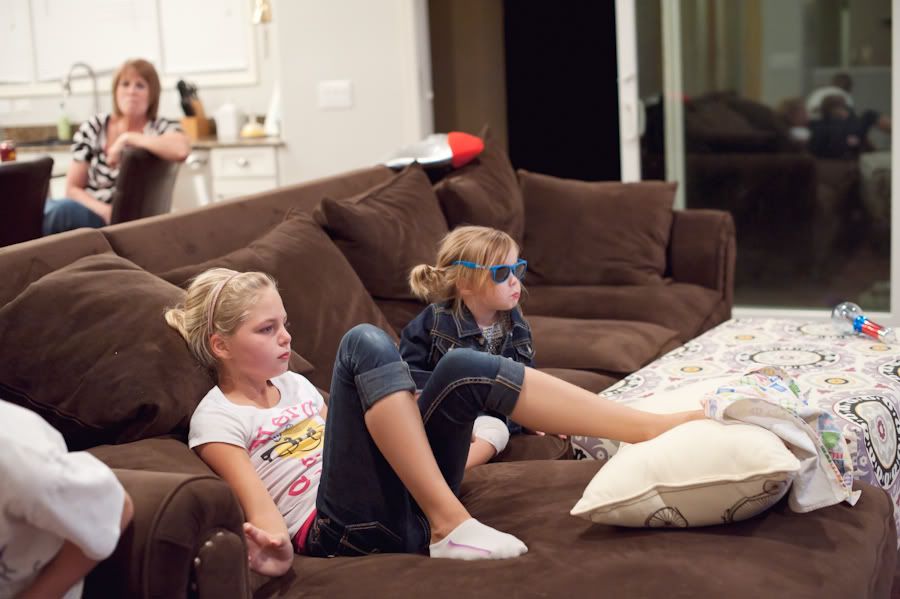 The other awful, huge and expensive mishap was this.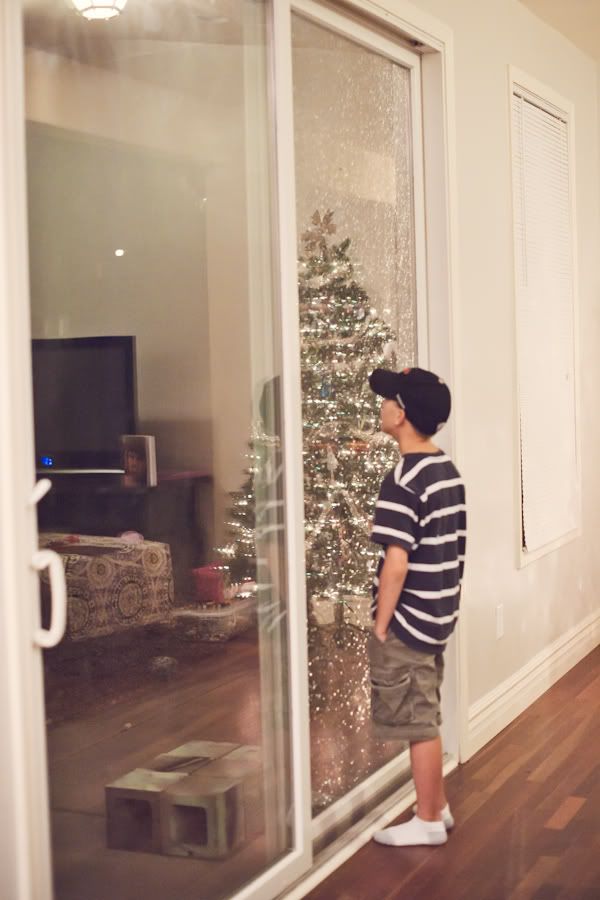 You can't tell in this picture very much, but the window Jake is looking at is completely shattered. Uggghhh…my boys broke their window! Who would have thought that the little Arizona pebbles they put in landscaping would have shattered a window. Not that the pebbles should have been thrown at the window after they were told not to throw them. That was an expensive lesson to be learned. Especially during the holidays. Like I said earlier…we are glad they love us so much!
The boys would go to sleep together…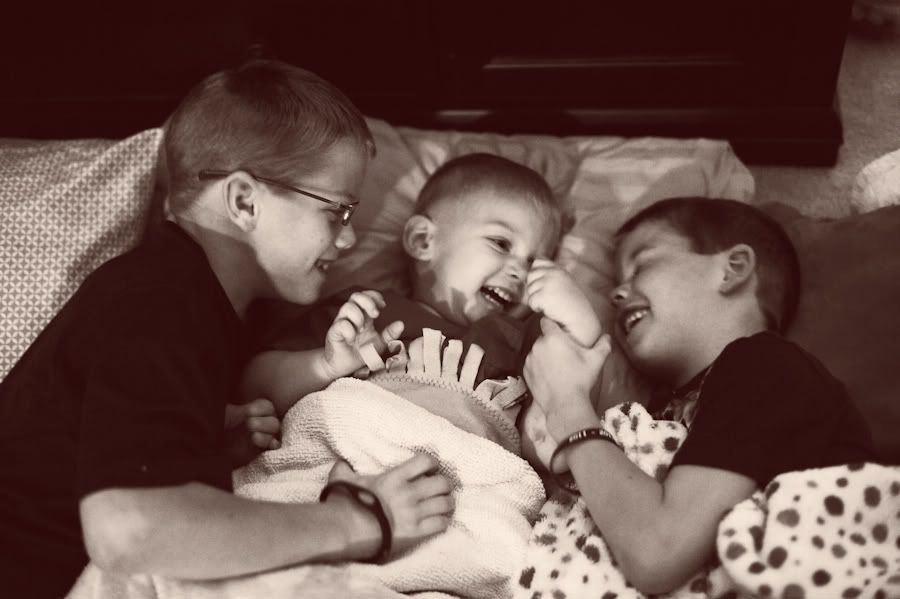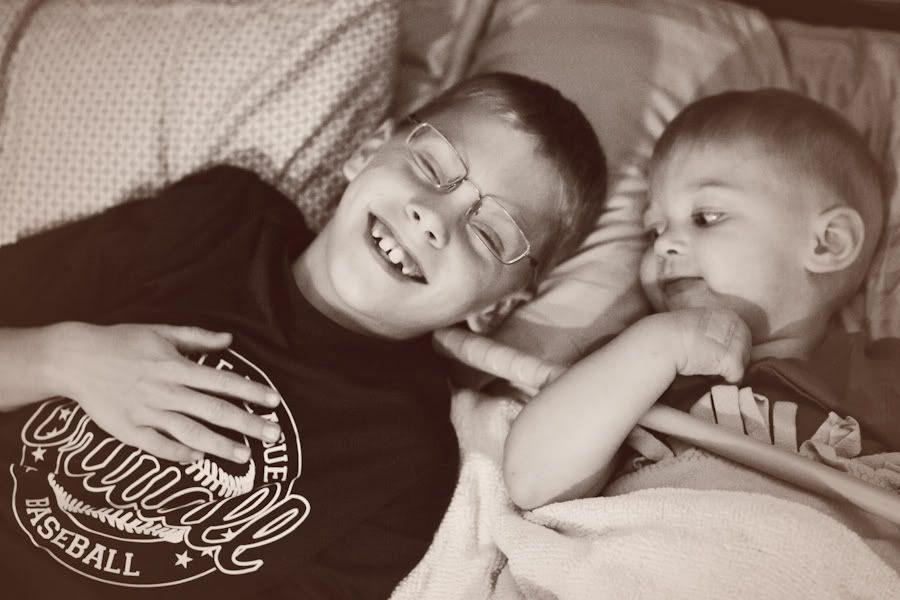 and wake up together.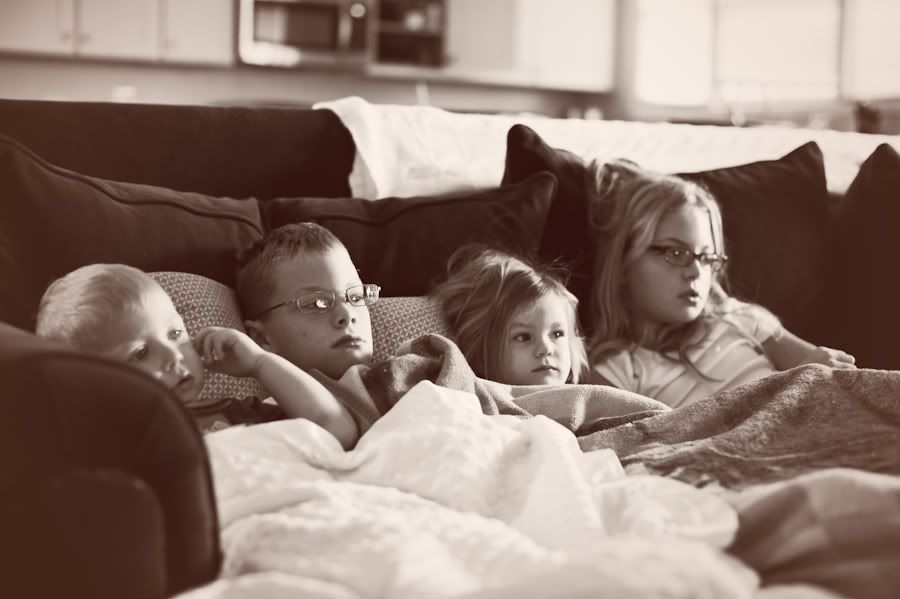 I love these sleepy morning faces. Luckily the big cousins would take care of the little ones in the morning. Beth and I would stay up until 3:00 in the morning chatting and playing around on the computer. We had to get our girl time in somehow. We tried to sleep in a little bit. I don't know how we kept those hours with all of these kids. Those nights are fun memories though.
Other things we did: shopping, movies; Breaking Dawn, Muppets and Hugo. Visiting my uncle and his family, going to lunch with my Grandma and Beth taking my family photos. I will share those soon.
(Some pictures in this post taken by Beth).